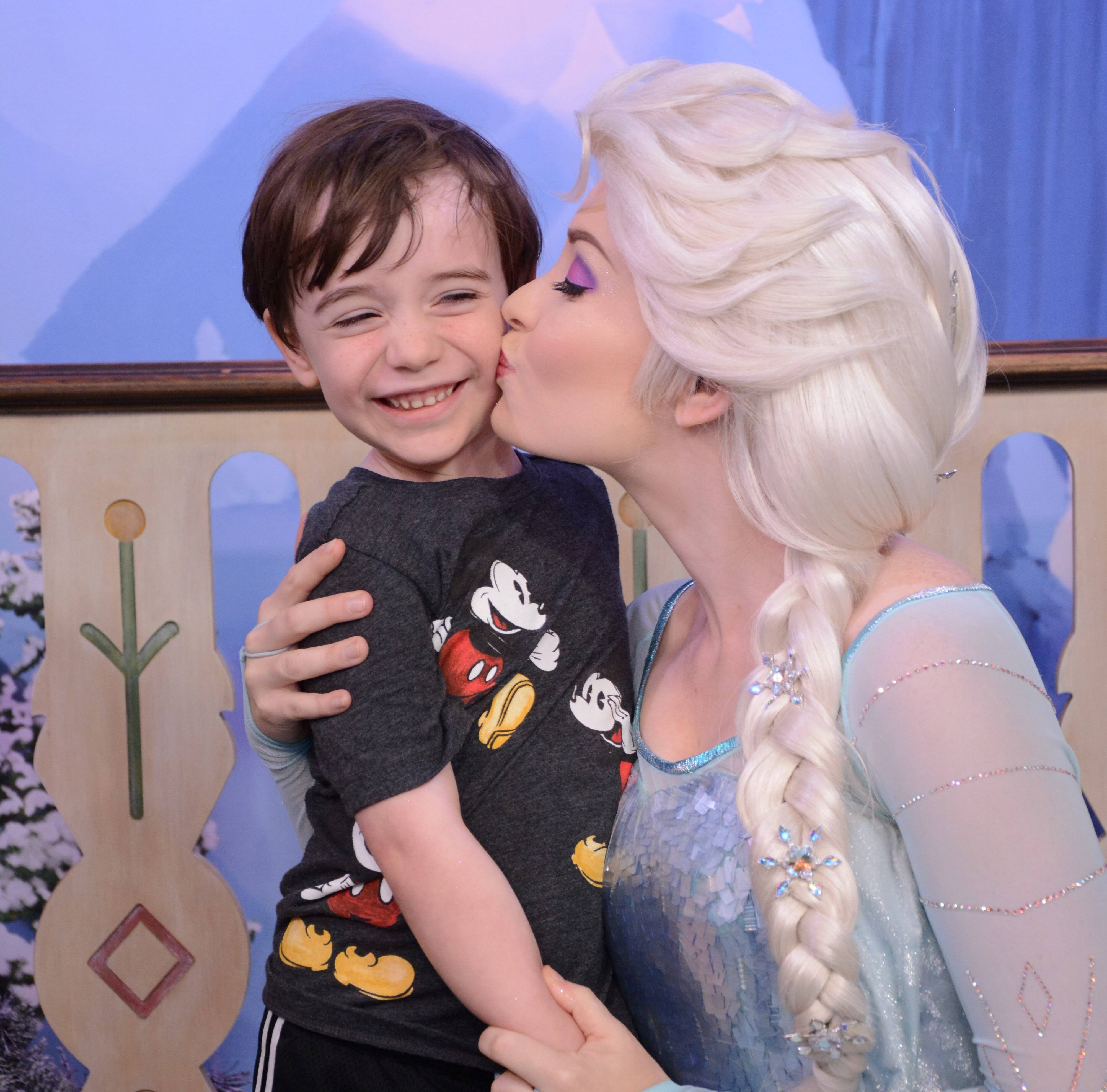 For media requests, please reach out to Central Alabama Regional Director Courtney Carson at 205-638-2431 or

[email protected]

.
FREQUENTLY ASKED QUESTIONS
What is Magic Moments?
Magic Moments is a 501(c)(3) non-profit organization chartered under the laws of the State of Alabama to make non-medical gifts to children with chronic life-threatening diseases. Our sole purpose is to put joy and hope back in these children's lives.
How do we identify children who qualify for a magic moment?
Anyone can refer a child. Most of our referrals are received from Children's of Alabama, from medical personnel throughout the state, or from the child's relatives or friends. To be eligible, a child must be a resident of Alabama. Magic moments are granted to children ages 4-18 who meet our medical criteria and are cognizant that they are receiving this gift. We grant only one request per child, and children who have already received a wish from another wish-granting organization are not eligible for a magic moment.  To refer a child online, click here.
How does a child receive a magic moment?
An application is sent to the child's parent or guardian, and when completed, is returned to our office.  A medical form is then sent to the child's physician, and once it is returned, the request is presented to the Magic Moments Executive Committee for approval.  Once the magic moment is approved, it is assigned to a Magic Maker, who contacts the family and assists in the fun of fulfilling the request.
What kind of magic moments are granted?
Just as each child is different, so is their magic moment!  Whether it is a trip to Disney World, going on a shopping spree or meeting a favorite celebrity, each one is special and unique.
How many magic moments are granted?
It is our goal to fulfill approximately 100 magic moments each year. Since our inception in 1984, we have granted almost 5,000 magic moments in every county of Alabama
What happens after the magic moment?
Because Magic Moments is devoted solely to serving children in Alabama, we are able to establish lasting relationships with the children and families we serve. Though we can't grant more than one magic moment to a child, what we can do is make sure that child and family become a permanent part of our family. Through our Beyond the Moment programs, Magic Moments families are invited to participate in regional activities throughout the year, including an annual Family Camp held at Children's Harbor at Lake Martin in Alexander City, Alabama.
How are magic moments funded?
Magic Moments is not a United Way agency and is not affiliated with any other wish-granting organization.  We rely totally on the generosity of individuals, corporations, foundations, civic groups and fundraising efforts for financial support.
Who is magic moments?
Magic Moments is governed by a Board of Directors in Birmingham. In addition, we have an advisory council, regional council, and Junior Boards throughout the state. Magic Moments employs a professional staff of four employees based in Birmingham. Additionally, we are fortunate to have the support of numerous volunteers in the community and throughout the state to help us carry out our mission.
How can I contact Magic Moments?
You may contact us in person or by mail, telephone, fax or email:
Magic Moments
2112 11th Avenue South Suite 219
Birmingham, AL 35205
Phone: 205-638-9372
Fax: 205-638-6717
Email: [email protected]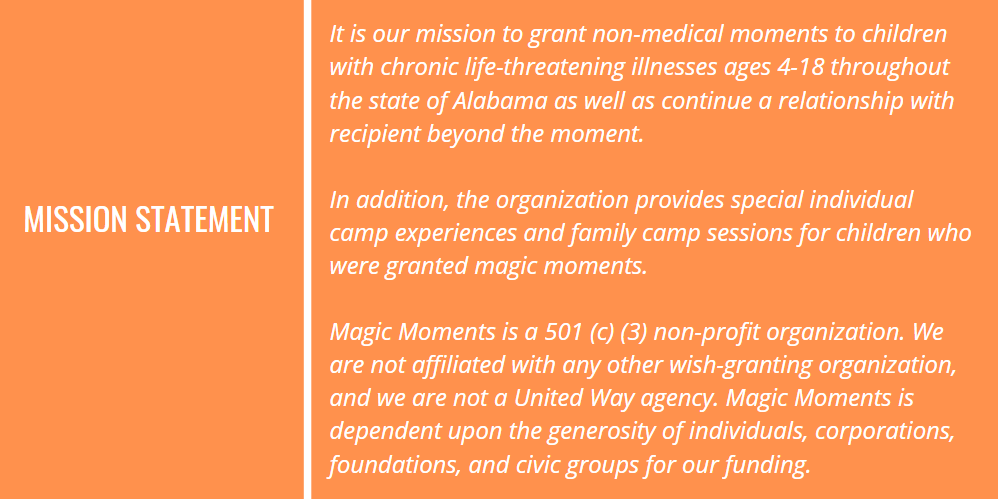 About
Magic Moments was founded in 1984 with the sole purpose of providing happiness to children throughout the state of Alabama who are diagnosed with chronic life-threatening illnesses. As Birmingham mother Shelley Clark was spending time in and out of Children's Hospital (now Children's of Alabama), she saw a television program about a chronically ill boy who wanted to ride on a fire truck. The story of his community's endeavor to fulfill his request, right down to the firemen entering his hospital room window via a hook and ladder truck, inspired her to offer hope and joy to local children with life-threatening illnesses by turning their dreams into realities.
Shelley shared her idea with her daughter's pediatrician, who put her in touch with L.E. Patton, play therapist at Children's Hospital. Coincidentally, at about the same time, fellow Birmingham mother Buffie Marks, who volunteered in play therapy at Children's, had a similar idea after having seen a national broadcast about a wish granting organization. L.E. suggested Shelley and Buffie collaborate. Soon, with the blessings of hospital administration and a $500 grant from the Junior League of Birmingham, Magic Moments was born.
To date Magic Moments has provided close to 5,000 magic moments for children in all 67 counties of Alabama. Not only does Magic Moments provide children with non-medical opportunities such as a family trip to Disney World, meeting a celebrity of choice, or going on a shopping spree, we provide on-going events to enhance the relationships between our staff and families as well as relationships with other families.
In 1999 we extended our programs to include Family Camp held each Memorial Day weekend at Children's Harbor on Lake Martin, which accommodates the medical needs of the children we serve. Family Camp provides time for families to relax and spend time together for three days in a stress free environment as well as rekindle relationships with other families and make new friendships. Camp is offered free of charge to our families and accommodates approximately 70 children and their family members.
In 2013 the Family Camp concept was expanded further and we began providing year-round, ongoing support for our families. These opportunities, known as "Beyond the Moments," include activities such as family nights at regional ballpark, Valentine's Day ice skating parties, and breakfast with Santa. Beyond the Moment opportunities are offered to families at no expense.
Magic Moments employees four full-time staff members. We operate under a Board of Directors and are supported by an Advisory Council, a River Region Council in Montgomery, and Junior Boards in Birmingham and Montgomery.
We pride ourselves in being the only wish-granting organization dedicated solely to the children of Alabama.
Funding
Magic Moments is not a United Way agency and is not affiliated with any other wish-granting organization.  We rely totally on the generosity of individuals, corporations, foundations, civic groups and fundraising efforts for financial support.